Who am I?
My name is Joshua Cherub Doughan, God's servant in charge of the Montreal and Ottawa Methodist Churches (Methodist Church Ghana). I am excited at welcoming you to our church.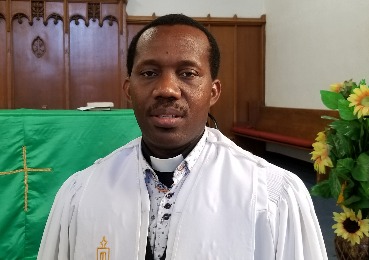 The Church
Methodist Church is a new dynamic Church that is contextually relevant, significantly practical and Biblical true to its convictions. It is a place of worship, word, waiting in prayer and preparing all to become vessels in the hands of God, with the aim of influencing the generation and making society better, and preparing Christians for the final realization of the Kingdom of God.
Our Approach
We do this through soul winning, witnessing, leadership, discipleship, seminars, training, teaching services and miracle hour/night. It is a place where everybody is welcomed because God's grace is sufficient for all - it is a place where God's loved is shared with all, where the backslidden is restored, where every member is a minister and where every minister is a servant of Christ.
Vision
Our vision is to build a vibrant, spirit-filled and spirit-led church for the holistic transformation of society.
Mission
Our mission is to equip the church for ministry to the world through the demonstration of christian faith and above.
Core Values
Our core values are based on the biblical principles (God's unchangeable standards) with Christ as our foundation. They are the Word of God, prayer and fellowship.
Foundation and Focus
Our foundation is the fullness and faithfulness of the Triune God as revealed in the Person and Life of Jesus Christ and His Cross, proclaimed the Holy Bible and authenticated in the life of those who still believed and is witnessed by History.

Our focus is to know Jesus Christ and His Kingdom and to make Him to others; becoming vessels for the establishment of His Kingdom among people of all walks of life, especially in our generation.

We're so glad to want to celebrate Jesus and God's fullness with you on the following days:
Sunday Divine Service
12:00 p.m. - 2:00 p.m. EST

455 Church Street

Beaconsfield, QC H9W 3S6
ZOOM ID: 676 035 7720

Sunday Children's Service
9:00 a.m. - 10:00 p.m. EST

ZOOM ID: 676 035 7720
Wednesday Mid-week Service
7:00 p.m. - 8:00 p.m. EST
ZOOM ID: 676 035 7720

Thursday Bible Studies
7:00 p.m. - 8:00 p.m. EST
ZOOM ID: 676 035 7720
Friday Prayer Meeting
7:00 p.m. - 8:30 p.m. EST
ZOOM ID: 676 035 7720